With rare empathy and a genius for analysis, Sullivan freely probes and interprets MacEwen's inner and outer lives…. As any great biographer must be, Sullivan is also a magician, for she has succeeded in making Gwendolyn MacEwen rise from the pages of Shadow Maker, not to be forgotten.

The Montreal Gazette
A splendid book, rich in insight, ideas and the fruit of dogged research…. Sullivan has taken on a fiercely difficult and delicate task and acquitted herself with thoroughness and intelligence.

Toronto Star
Shadow Maker has an incisive, empathetic immediacy that raises it above the cumbersome, overly detailed work of so many biographers.

Maclean's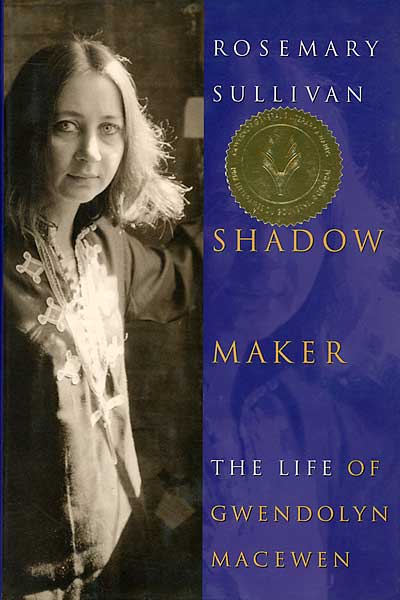 Eyes outlined with khol, dressed in an embroidered purple tunic and writing of places far away, of magic, of cats and of demon lovers, Gwendolyn MacEwen seemed to many an exotic and mesmerizing presence. In less than twenty-six years, she published twenty books and became with Margaret Atwood the most celebrated poet of her day. Yet by forty-six she was tragically dead; many suspected suicide.
In Shadow Maker, biographer and poet Rosemary Sullivan sets out to recover the many faces of Gwendolyn MacEwen…. [She] moves beyond the confines of traditional literary biography and pulls back the curtain on the process of writing MacEwen's biography as she searches the silence behind the writing, decoding the life like a piece of metaphysical detective work.
Shadow Maker won the Governor General's Award for Non-Fiction, the Canadian Author's Association Award for Non-Fiction, the UBC medal for Canadian Biography, the City of Toronto Book Award, and was nominated for the Ontario Trillium Award.
The Genie Award-winning documentary Shadow Maker: Gwendolyn MacEwen, Poet (1998) by Brenda Longfellow (Gerda Productions)  is based on Sullivan's biography.
Critical Praise for Shadow Maker
"With rare empathy and a genius for analysis, Sullivan freely probes and interprets MacEwen's inner and outer lives…. As any great biographer must be, Sullivan is also a magician, for she has succeeded in making Gwendolyn MacEwen rise from the pages of Shadow Maker, not to be forgotten."
THE MONTREAL GAZETTE
"[Sullivan's] book is an excellent, painstakingly produced chronicle of the artist as a young, haunted woman; it is a supremely honourable, yet unhagiographic, tribute to MacEwen, our greatest poet of the mind."
GEORGE ELLIOTT CLARKE, THE CHRONICLE HERALD (HALIFAX)
"This ability to be fully involved, emotionally and intellectually, with her subject and yet to maintain balance in her analysis sets [Rosemary Sullivan] apart from other Canadian biographers…."
BOOKS IN CANADA
"A splendid book, rich in insight, ideas and the fruit of dogged research…. Sullivan has taken on a fiercely difficult and delicate task and acquitted herself with thoroughness and intelligence."
TORONTO STAR
"Rosemary Sullivan has two great virtues as a literary biographer … the ability to shape a compelling story and tell it with incomparable grace [and] an implicit sense of the moment in which her subject lives. Sullivan sets all her scenes as a dramatist would…. [She also has] a deeply felt understanding of and respect for the creative process and for the intensity of the life that feeds it."
QUILL & QUIRE
"Sullivan does not idealize her subjects, but she is clearly in their camp, respectful and sympathetic, determined to see from the inside…. And she is a poet herself, with a poet's understanding of just how much and how little about a writer's life can be inferred from her work…. [She] crafts that intense bond between the reader and her subject."
THE GLOBE AND MAIL
"It is hard to put down this book, both for the life being reconstructed… and for the probing intellect and engaging presence of the biographer."
CLAGARY HERALD
"Shadow Maker has an incisive, empathetic immediacy that raises it above the cumbersome, overly detailed work of so many biographers."
MACLEAN'S
"Turning the pages of Shadow Maker—reading through to MacEwen's heart—is as painful and tense as watching surgery being performed on someone you love. The suspense is electrifying, and the reader's ultimate bonding to the central figure in this book is the crowning triumph of Rosemary Sullivan's skill and compassion. Shadow Maker is not a biography—it is a love affair between every one of its readers and Gwen MacEwen."
TIMOTHY FINDLEY
"Shadow Maker reads like a wise, intuitive, and intensely affecting novel. By conjuring Gwen MacEwen in all her brilliance, as well as by grounding her in a very particular time and place, Sullivan enriches our understanding of both the poet and her country. The interplay between a country that can isolate and marginalize artists of MacEwen's magnitude, and MacEwen's own need to isolate herself, is at times heart-breaking, but there is triumph here, a triumph of self-invention against all odds."
CAROLE CORBEIL
"Readers interested in a complex and troubled personality, as well as those who care about writing, women and culture in Canada over the past four decades, will find it compelling."
EDMONTON JOURNAL
"Shadow Maker is an example of literary detective work at its compelling best."
THE LONDON FREE PRESS